The increasing number of electric systems such as lane assist, park assist, adaptive cruise control, emergency brake assist or electric parking brake present workshops with ever increasing challenges for diagnosis and repair.
Work on these systems is often only possible with the help of a suitable diagnostic tool.
In addition to error diagnostics, the handling of these systems often requires additional care, e.g., when testing an electric parking brake on a rolling test bench.
Due to the test bench detection, the electric parking brake from TRW identifies the test bench approx. 3 - 5 seconds after the rear axle enters the test bench, with the ignition on and the auto-hold function deactivated (does not work on four-wheel drive brake test benches). The EPB control unit detects that the front wheels are at a standstill and that the rear wheels are rotating with a constant speed between 2 and 6 mph. This mode is indicated to the driver on the instrument panel, either with a signal light or with a notice that the vehicle is in test bench mode.
The test bench modes can differ greatly, however, depending on the vehicle manufacturer! The following videos illustrate the respective test sequence for electric parking brakes on the rolling test bench. These are examples which can vary through software updates or model changes.
To avoid damage to the vehicle, please find out about the exact test process for the respective vehicle before entering the rolling test bench.
Audi SQ5 (8R) model year 2016
Enter the rolling test bench with the rear axle
Test stand starts up
The rear wheels move at a constant speed, rolling test bench must not exceed 4mph, front wheels are stationary
After 3 to 5 seconds switch-over to test bench mode – prerequisite: ignition on
Control unit detects test bench mode
With each short activation of the button (up to 4 times) the piston is retracted a short defined distance and the brake is gradually closed until the blocking limit has been reached
This can be followed on the indicator as an increasing brake force
Test completed – exit from the rolling test bench
BMW 5-series Touring (F11) model year 2016
Enter the rolling test bench with the rear axle
Test stand starts up
The rear wheels move at a constant speed between 2 and 6 mph, front wheels are stationary
After 3 to 5 seconds switch-over to test bench mode – prerequisite: ignition on
Control unit detects test bench mode
With each short activation of the button (up to 3 times) the piston is retracted a short defined distance and the brake is gradually closed until the blocking limit has been reached
This can be followed on the indicator as an increasing brake force
Test completed – exit from the rolling test bench
Hyundai i30 (GD) model year 2017
Enter the rolling test bench with the rear axle
Test stand starts up
The rear wheels move at a constant speed between 2 and 6 mph, front wheels are stationary
After 3 to 5 seconds switch-over to test bench mode – prerequisite: ignition on
Control unit detects test bench mode
With each short activation of the button (up to 3 times) the piston is retracted a short defined distance and the brake is gradually closed until the blocking limit has been reached
This can be followed on the indicator as an increasing brake force
Test completed – exit from the rolling test bench
Mercedes GLC (X253) model year 2016
Enter the rolling test bench with the rear axle
Test stand starts up
The rear wheels move at a constant speed between 2 and 6 mph, front wheels are stationary
After 3 to 5 seconds switch-over to test bench mode – prerequisite: ignition on
Control unit detects test bench mode
With each short activation of the button (up to 3 times) the piston is retracted a short defined distance and the brake is gradually closed until the blocking limit has been reached
This can be followed on the indicator as an increasing brake force
Test completed – exit from the rolling test bench
VW Passat (3C) model year 2015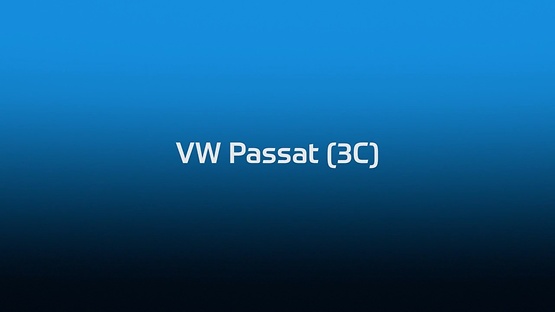 Enter the rolling test bench with the rear axle
Test stand starts up
The rear wheels move at a constant speed between 2 and 6 mph, front wheels are stationary
After 3 to 5 seconds switch-over to test bench mode – prerequisite: ignition on
Control unit detects test bench mode
With each short activation of the button (up to 3 times) the piston is retracted a short defined distance and the brake is gradually closed until the blocking limit has been reached
This can be followed on the indicator as an increasing brake force
Test completed – exit from the rolling test bench
VW Tiguan 4motion (5N) model year 2008
Deactivate automatic rolling
Enter the rolling test bench with the rear axle
Engine off; wait 2 seconds
Ignition on
Activate rolling
Test stand starts up
The rear wheels move at a constant speed between 2 and 6 mph, front wheels are stationary
After 3 to 5 seconds switch-over to test bench mode – prerequisite: ignition on
Control unit detects test bench mode
With each short activation of the button (up to 3 times) the piston is retracted a short defined distance and the brake is gradually closed until the blocking limit has been reached
This can be followed on the indicator as an increasing brake force
Test completed – exit from the rolling test bench
Note: If the rolling test bench cannot be switched off, follow this advice:
Move the rear axle to the roller of the test bench
Turn off the engine (ignition off) and let the vehicle roll into the rolling test bench
Start after 2 seconds
Carry out the test as described above
ZF Aftermarket product range