ZF test benches assuring service quality
The variety of versions and complexity is now greater than ever in transmission production. Consequently, the demand for high-quality transmission testing systems is also growing.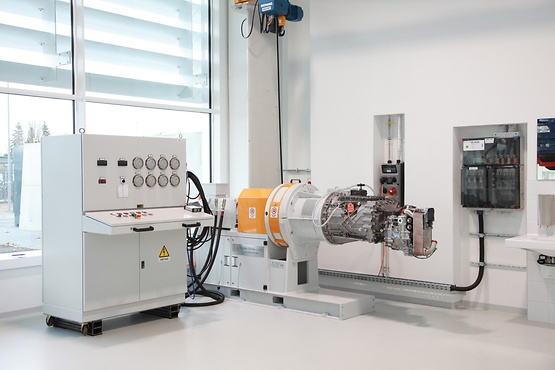 Transmission test benches are an indispensable element in the ZF Aftermarket business, in assuring service quality while providing demand-oriented and cost-efficient services.
As system provider - in order to support our ZF Aftermarket partners and guarantee service readiness - we offer for the automotive sector:
Demand-oriented development and marketing of turn-key solutions for test benches with CE mark
In-house developed special tools
Powerful end-to-end solutions for test benches – in various performance classes, incl. adaptions
Offers from the transmission specialists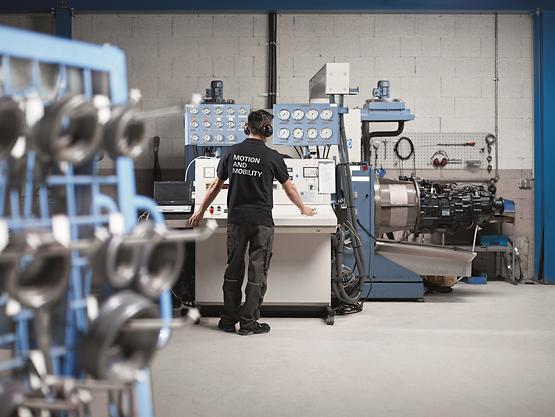 What we offer
ZF offers functional test benches in various performance classes – to reliably test and accept numerous ZF commercial vehicle, construction machinery, tractor, utility vehicle, passenger car transmissions and for non-ZF-products.
Our range includes the right test bench whatever the task. As such, we can offer the right standard variant in various performance classes, depending on the product portfolio being tested.
In addition, we also offer comprehensive transmission adaption packages that allow almost any standard transmission design to be flange-mounted to ZF test benches. Whether you are looking at service or quality testing – the ZF functional test bench range allows any transmission to be thoroughly tested.
Test benches - A dialog with the transmission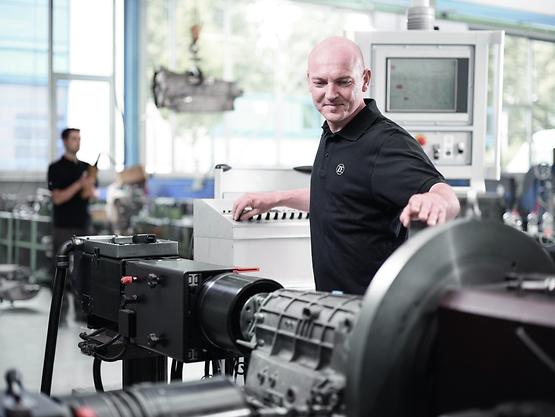 Your benefits at a glance
With a ZF test bench and the ZF Testman diagnostic software with optional test bench application, you can constantly keep an eye on your transmission that is being tested.
Integrated metrology provides rapid, easy access to all performance-related data and 100% service-relevant checks of your remanufactured transmission and detailed, precise troubleshooting. The test bench system developed in-house and marketed by ZF is easy to use.
For each transmission you have a transmission-specific testing procedure and regular updates.
Individual solutions for your transmission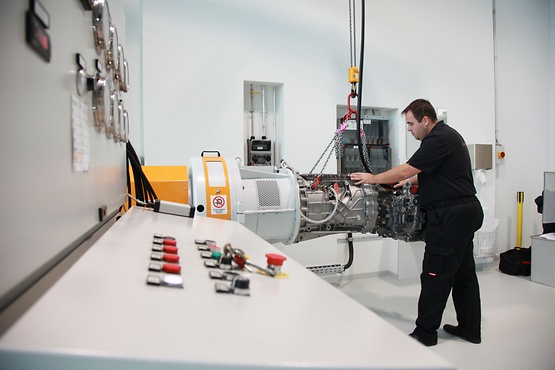 Discover the range of test benches
Depending on the transmission type, the test run is conducted and documented on the basis of a test record. The information and measurement data required for the testing procedure are either displayed on the test bench console or by ZF Testman, and can be adjusted individually.

A semi-automated test run is possible with certain transmission types. Here the system stores and logs all measurement data.
Various test benches for each vehicle category
Test benches for commercial vehicle transmissions
CH ED 20 lite
CH EG 50 big console
CH EG 80 big console
CH EG 110 big console
Ecomat
x
x
EcoLife
x
x
AS-Lite
x
x
x
x
AS-MID
x
x
x
x
AS-Tronic II
x
x
x
x
Traxon
x
x
Ecolite
x
x
x
x
Ecomid
x
x
x
x
Ecosplit 1 - 4
x
x
x
x
KIT NMV
x
x
x
x
KIT WSK
x
x
Intarder 2
x(*1)
x(*1)
x(*1)
x(*1)
Intarder 3
x(*1)
x(*1)
x(*1)
x(*1)
Test benches for non ZF transmissions
CH ED 20 lite
CH EG 50 big console
CH EG 80 big console
CH EG 110 big console
Daimler (*3)
x
x
x
x
Daimler (*4)
x
x
x
x

IV = in preparation

(*1) = only functional check, no testing according to defined braking torque

(*2) = Load test with defined braking torque
Test benches for construction and agriculture transmissions
CH ED 20 lite
CH EG 50 big console
CH EG 80 big console
CH EG 110 big console
CH EG 250 big console
Ergopower
x
x
x
Ergopower L
x
x
x
Ergopower L2
x
x
x
C-Power
x (*2)
x (*2*)

(*1) = Functional check only, no test with defined braking torque

(*2) = Load test with defined braking torque