ZF Aftermarket offers a variety of different trainings, tailored to your needs. Find a selection of hosted trainings and webinars on this page.
Find your training or webinar directly: Webinars | Training Details
Sign up for an upcoming session with ZF Aftermarket. Take an hour to learn valuable information on ZF transmissions, suspension technologies and more, hosted by ASE certified ZF Technical Trainers. It's knowledge from the pros, for you, the pros.
Our trainings details at a glance
8HP Transmission Training Overview
This training will take a look at the common problems that technicians encounter everyday in their daily work on the ZF 8HP transmission. ZF Technical Trainer will provide solutions and tips to aid technicians on the daily.
Participants will have a tangible experience with the shifting matrix. The presenter will explain what an adaptation is and how to read it with a general diagnostic tool. In addition, the Limp Home function and coding issues will be discussed. Internal shift and external transmission faults will be presented. Through the use of these learning methods, common errors can be quickly diagnosed.
After completing this training the participant will be able to:
List internal components of the 8HP transmission and describe the function of the torque converter and lock up clutch
Describe differences between pressure regulators and soleno and identify the torque flow of all gears and further the common failure of the ZF 8HPon
Identify the different characteristics of pressure regulators
Explain the shifting strategy of the ZF 8HP and differentiate between mechatronic types
Explain an oil change service procedure and analyze transmission adaptation values
Review the disassembly and assembly process of the transmission and identify special tools needed for disassembly and assembly of the unit
Review the disassembly and assembly process of the transmissi and explain how to properly check the oil in the transmission
Identify special tools needed for disassembly and assembly of the unit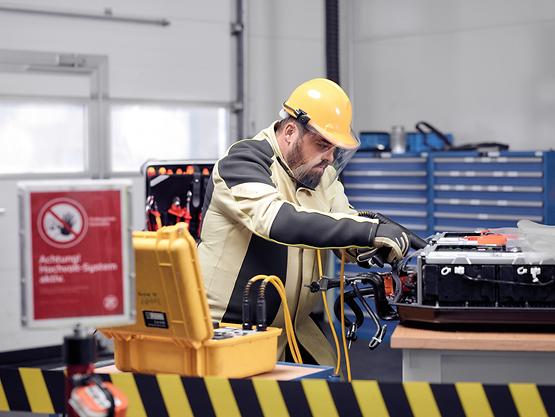 High voltage Trainings
Be prepared to serve the electric vehicle parc of the future with ZF. Become an Electrically Instructed Person with our new certified online training and ZF expertise!
You will be sensitizsed and instructed in handling high voltage systems in order to enable you to work safely on the vehicle. The aim of the training is to ensure that you can immediately and clearly identify the high voltage components, understand the hazards they pose and are familiar with the component markings. The exact training contents can be viewed here.