Transmission expertise at first hand
ZF supplies you with all the components you need for oil changes, from high-quality ZF LifeguardFluid transmission oil to complete oil change kits for individual automatic transmissions. ZF also offers you an extensive range of services:
hands-on training courses
Smart Service
Expertise from diagnosis to installation of a replacement transmission
This way, you can be sure that the transmission oil change will go smoothly - for conventional drives as well as for modern hybrid models.
ZF Service Point
Have your transmission service carried out at the ZF Service Point.


The right transmission oil for automatic transmissions
Each transmission is specially designed to meet the requirements of the vehicle in which it is installed. In the same way, every ZF transmission fluid with its special additives is perfectly matched to the respective transmission.
With ZF LifeguardFluids, you make the right choice for your vehicle - and your wallet:
Perfect shifting behavior and vibration-free operation
Prevention of transmission failures and general malfunctions
Reduced wear on heavily stressed components
Optimized viscosity for maximum fuel economy and lower CO₂ emissions
Reliable care over the entire service life of the vehicle
100% compatible thanks to original quality
Do not compromise!
You will find the right oil for your car or van transmission in the TE-ML 11 lubricant list: Download TE_ML 11 List
Our ZF LifeguardFluid transmission oils are available in the following container sizes:
Safety and data sheets
Do you need the appropriate oil data sheets? Download the suitable documents you are interested.
Oil change kits from ZF
Save time searching for the last matching sealing ring!
The ZF oil change kits for automatic transmissions for cars and vans contain everything you need for a professional oil change - optimally matched to your transmission type. Our oil change kits are available for ZF 5HP, 6HP, 8HP as well as for other makes.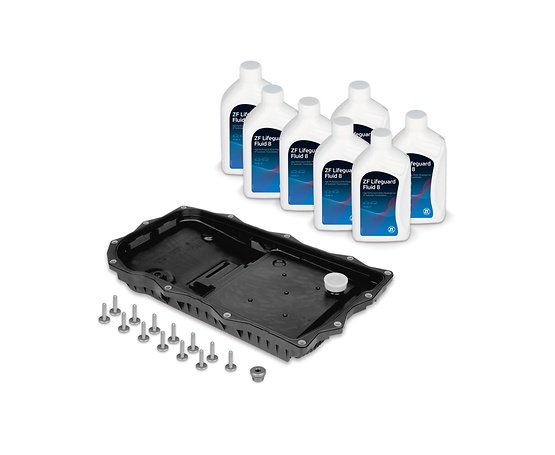 The right place
Where ZF oil change kits are used for passenger cars and light commercial vehicles:

Transmission oil changes incl. filter replacement
Oil pan or housing leaks
Oil cooler leaks
Torque converter replacement
Mechatronic replacement
All components in ZF OEM quality and immediately at hand, saving working time in the workshop and waiting time for the vehicle owner.
Our oil change kits for automatic transmissions
Step by step instructions for transmission oil change
Our service competence on transmissions
FAQ about oil change and transmission oil
Frequently asked questions about oil and oil change kits
On our FAQ page you will find a variety of information and answers to frequently asked questions.