When installing electric steering columns, steering gearboxes or electro-hydraulic power steering pumps, several points have to be observed for programming. This practical advice will help you to allocate the required measures to the different components.
Electro-hydraulic and electric steering systems are becoming increasingly more common in the vehicle industry.
They offer wide-reaching advantages over conventional hydraulic power steering systems. In addition to saving fuel, a number of other safety and comfort functions can be implemented, such as:
Speed-dependent power steering
Electric park assist
Active lane assist
Active steering wheel reset
Emergency steer assist
When components are replaced in these systems, different programming or calibration measures may have to be carried out on the newly installed parts.
To offer you the best possible support with this, our spare parts packages are supplied with one or two labels, as required.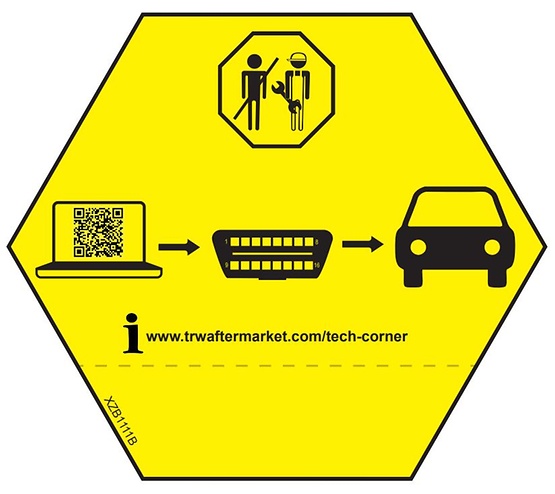 A yellow label indicates components which require special programming in the vehicle. If necessary, you may have to calibrate the steering angle sensor, define the steering wheel position again or select a corresponding characteristic diagram. The printed QR code gives the workshop access to a table where the required measures are referenced to the respective part numbers.
A short description of the different programming steps from this table can be found in our Service Information XZS1000.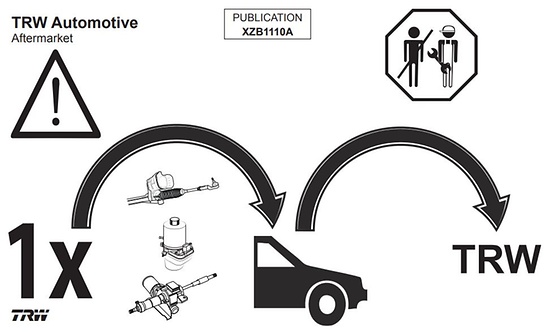 Attention: If the white label shown on the right is also on the packaging, the component cannot be used in a different vehicle once has been connected to the vehicle electric system!
Programming still has to be carried out, though, as indicated by the yellow label.
Note: Once such a part has been installed, it cannot simply be returned to your dealer. The component has to be sent to TRW for a reset before it can be used in a different vehicle. For this reason, please notify your dealer if you are returning this type of spare part.
If neither label can be found on the packaging, the item is a so-called "plug and play" spare part (only requires connecting after installation) which needs no special programming in the vehicle
ZF Aftermarket product range