EHPS (electrohydraulic power steering) is an electrically assisted power steering system from TRW which combines the advantages of electronically controlled, demand-based steering with robust hydraulic actuation. EHPS from TRW is the combination of a compact motor pump unit (MPU) and a conventional rack-and-pinion steering. As other electrical steering solutions, EHPS operates independently of the combustion engine, reducing the fuel consumption of the vehicle.
To assist the steering power provided by the driver, the motor pump unit (MPU) delivers the required hydraulic pressure into the steering cylinder. The separator piston separates the steering cylinder into two chambers so that the pressure is generated in the respective chamber as required by the driver. In the video this is represented by the red LED lights.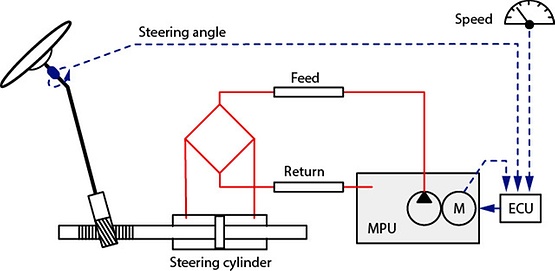 This support depends on the steering angle and the vehicle speed. This means that the MPU supplies a higher pressure level during parking (low vehicle speed and great steering angle) than when driving in a straight line at high speed. For the driver, this provides a higher level of comfort for parking manoeuvres and stable vehicle handling on motorways.
This video uses a sectional model to demonstrate the basic function of an electrohydraulic power steering system. When the steering wheel is turned, the rack-and-pinion and the connected rod assembly are moved axially via the pinion with helical gearing. This swivels the wheels left or right via the track rod sets and the stub axles – the vehicle changes its direction.
ZF Aftermarket product range