ZF Aftermarket – Your reliable partner when it comes to service
Our service concept offerings:
Automated and autonomous driving are important technologies for making the future of transport and cities safer, more effective and more pleasant.
ZF Aftermarket provide on-site support with comprehensive repair and system expertise! The ZF fleet solution can be integrated into existing fleet management systems and we are offering a Maintenance and Service globally and 24/7. Always a person to contact near you to offer you fast and efficient help
Your benefits:
24/7 support (hotline)
Competence center for maintenance
Dedicated workshop connection
Worldwide service network
Access to OE know-how
Extensive range of training courses
Fast spare parts supply
ZF Aftermarket – Fleet management solution for autonomous driving
AD Components from ZF Shuttle
Smooth operation and safe driving behavior thanks to ZF's automotive grade state-of-the-art sensor set, central ECUs and framework software. Environmental sensing, localization, decision making and motion planning are handled by the built-in sensors, cameras and LiDAR (Light Detection and Ranging).
ZF Shuttle functions:


Object detection
Object tracking
Sensor fusion
Localization and position estimation
Collision avoidance
Path planning
ZF Shuttle – Autonomous driving technology
Actuation and closed-loop control, motion estimation, path tracking, tracking, motion control, C-ACC, active safety and emergency braking - everything is realized via the smart Connectivity Platform in the ZF Shuttle.
All data is collected via a central computer and sent to the ZF Cloud via the Connectivity Platform. This means that it is always possible to see how the fleet is performing and which services are pending.
In this way, we enable reduced administrative effort on the part of the customer thanks to centralized and standardized data throughout the entire service cycle.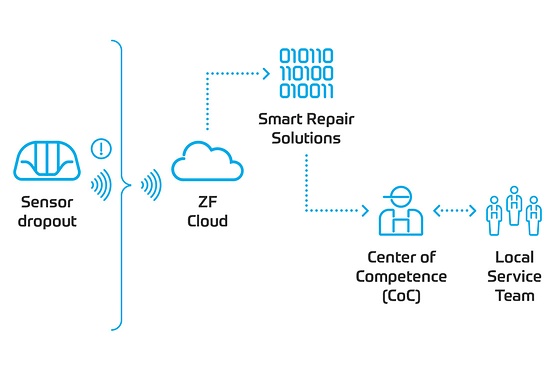 Flexible Service solutions
ZF Service Portal enables efficient service with specific information and support. By using Automotive Grade, we guarantee compliance with the highest Safety & Security standards for a robust and safe autonomous transport system.
Should a malfunction occur, we can offer direct service support via the ZF Cloud as well as Smart Repair Solutions and our Center of Competence.
With the ZF Cloud receiving all important information from the shuttle sensors and Smart Repair Solutions automatically analyzing this data, our Center of Competence can provide you with a state-of-the-art repair service for complex repairs – with onsite support as well as remote.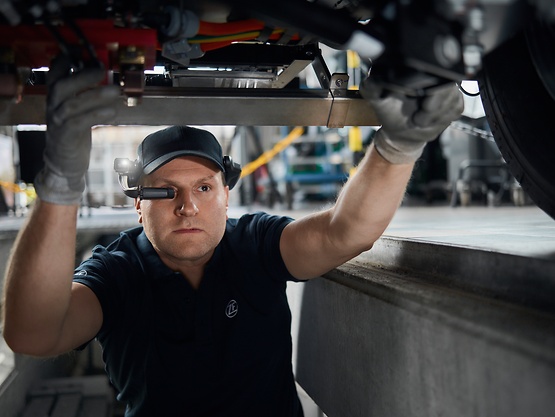 Maximize your shuttle's uptime
Thus, we guarantee maximum availability of the autonomous shuttle and preventively support you with these topics:
predictive maintenance
fast notification and resolution of service bulletins and callbacks
Standard repair procedures and highly qualified mechanics/engineers
Use of the latest software version
The coverage of an entire lifecycle
Maximum system availability
ZF Aftermarket support your Autonomous Transport System with our comprehensive and customizable Service concept that ensures the highest service availability and safety standards. Our service concepts build on each other so you get all the services from the previous smaller service bundle.
Pure
Plus
Premium
On-demand
+ Full service
+ Overhaul
Perfect for your on-demand needs



Tailored service and operations
Best-in-class logistics
Comprehensive training

All the benefits of Pure PLUS



Fastest remote & onsite support 24/7
Full lifecycle assistance
Highest quality and sustainable standards

All the benefits of Pure & Plus PLUS



Shuttle refresh
Uptime guarantee
Extended warranty
Pay-per-Use



You want to get more information?
Please download a detailed overview of our service concepts.