ECP coverage benefits at a glance
The ECP program was developed to relieve fleet operators and bus manufacturers of the risks associated with repair costs. ECP stands for Extended Coverage Program and offers a comprehensive service that includes repair and overhaul work on axle and transmission systems.

The ZF customer makes the agreed one-time payment, which covers 100% of the labor and material costs in the event of damage. The operating costs are calculated precisely so that the vehicle owner can use his company's funds in a more targeted manner.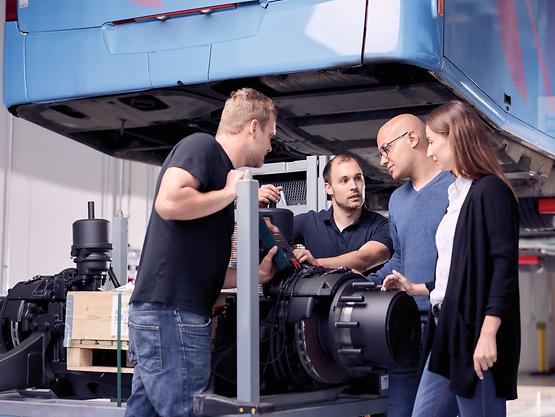 ECP purchase means additional protection against the risks of repair costs.


Further advantages:
Globally expanded network of the ZF Service Organization
Technical support from experts of the ZF Service Organization, even beyond the driveline
Product-trained and qualified personnel for diagnosis and repair work
Customized services for your needs
Service level 2: Repair or exchange of components in installed condition
Stage 2 includes:
Troubleshooting on the vehicle
On-site repairs for which the component does not have to be removed from the vehicle
Costs covered: All (labor, travel, and material costs including ZF peripheral parts according to the defined ZF scope of supply)
Service level 3: Product overhaul at ZF Service Center / ZF Service Dealer
Stage 3 includes:
Partial / full repairs in accordance with ZF quality guidelines
Transport costs for transmissions / axles from customer ← → nearest ZF Service Center
Covered costs: All (labor, travel, and material costs according to the defined ZF scope of supply)
Optional, the Flexible Benefits
Fixed price compensation for product removal / installation, towing and downtimes
Maximum contract term / mileage
Transmission: Maximum 8 years or 1.5 million km
Axles: Maximum 8 years or 1 million km
E-mobility: on request
Standard contractual arrangement based on the ECP model (GTC)
Volume discounts possible if the contract is concluded for more than one product group
One-time payment (advance payment)
Minimum number and maximum age of vehicles
The minimum number of vehicles for an ECP is 1.
Maximum age: Only vehicles whose warranty has not yet expired can be included in an ECP, e.g. new vehicles up to an age of 2 years as a rule.
Matching components from a single source: efficient and economical
AV 133
RL 75 E for coaches
RL 82 EC for city buses
EcoLife
Your contact to ZF Aftermarket
Your request has failed. E-mail cannot be sent. Please correct your data.
Thank you very much! Your request has been sent.