Functional readiness and faultlessness of brakes, steering and chassis are indispensable in winter weather. These extremely safety-relevant components in particular must work reliably: the brakes must function efficiently, the wheels must not lock, brake fluid and brake pads should be checked.
Brake fluid is crucial for the braking process
The brake fluid also makes a decisive contribution to vehicle safety. It is crucial for the braking process and must therefore be checked regularly. Brake failure can occur if it becomes contaminated or deficient. ZF Aftermarket recommends having the brake fluid tested every year by qualified personnel. This test determines the boiling point of the brake fluid. This is more reliable than testing with a moisture meter. Furthermore, ZF Aftermarket advises to replace the brake fluid every two years.A conscientious inspection of the brake discs is also essential. They should be checked for strong signs of rust or blistering. Grinding and rubbing noises when braking and insufficient thickness of the brake pads indicate that the brake pads should be changed. The handbrake cables are sometimes overlooked, but if their outer casing is damaged, water can penetrate. At temperatures below zero degrees Celsius, this water freezes and restricts the movement of the handbrake cables. In extreme cases, the handbrake will no longer work.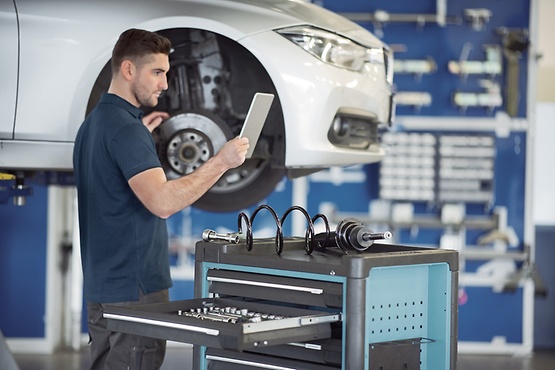 Defective shock absorbers are a safety risk
On greasy or slippery roads, properly functioning shock absorbers are more important than ever. Your team of experts at ZF Aftermarket therefore advises that these should also be checked during the winter check. If the shock absorbers do not function, the braking distance is extended, cornering behaviour becomes unstable and electronic driving aids such as ESP and ABS are reduced in their function.
When replacing the shock absorbers, make sure that both dampers of an axle are always replaced. This replacement must be carried out by a workshop professional. He will also check all additional components such as suspension strut support bearings, compression stops or protective tubes for functional readiness, because a defective component carries the same risks as a defective shock absorber itself.
For safety's sake, parts in OE quality
With regard to the safety of your passenger car, it is advisable to use high-quality parts developed and manufactured by experts. ZF Aftermarket contributes to this with a wide range of products in original equipment quality: with brakes from TRW, shock absorbers from the SACHS brand and LEMFÖRDER suspension and steering components, the workshop is ideally equipped for every job.