June 13, 2023
4 minutes read
Our experts proudly present
#inbrief
We are the ZF Aftermarket technical support team.
Under the hashtag #inbrief we are going to present you, on a regular basis, a new topic by illuminating it from all angles. These topics may relate to new products or frequent customer inquiries that reach our ZF Aftermarket technical support team.

Do you have a specific question on any technical subject or product information?
COTEC – Best braking from the very beginning
TRW COTEC is a new friction material coating developed by TRW that significantly improves safety after brake pad replacement. The unique, innovative silicate coating with a particularly high friction coefficient is applied to our brake pads only as thin as is absolutely necessary.
TRW COTEC...
Supports bedding behavior and reduces the time needed to break in brake pads
Achieves ~ 95% of the braking power from the first braking operation on
Cuts stopping distances by up to 47% after the brake pads have been replaced – thus considerably increasing the consumer's safety
Exceeds the market standard
Supports workshops with regard to quickly reaching the prescribed brake values at the brake test bench after conducting repairs

What is the difference between a brake pad without coating and TRW COTEC?
During the first 5 to 10 braking operations, consumers & workshops benefit from considerably shorter stopping distances. This difference corresponds approximately to the length of one vehicle. This diagram shows the stopping distance from 50 km/h to 0 km/h based on the usual speeds permitted in cities.
DTEC – All the performance, half the dust
TRW DTEC is a brake pad that reduces dust while delivering excellent performance. DTEC stands for "low dust technology", meaning a low-dust friction lining mixture which reduces dust in the rim by 45%. Rims need less cleaning, thus saving water & cleaning agents. TRW COTEC coating is included in all DTEC models.
Part numbers end with GDB....DTE, meaning identifying parts is easy – as usual.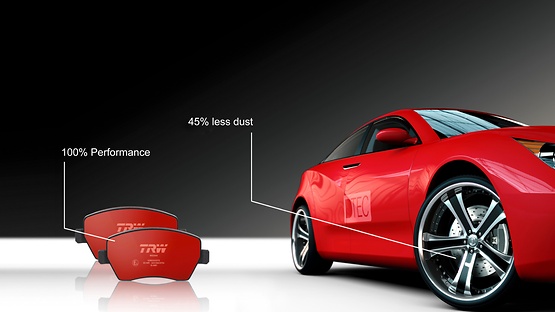 What does TRW DTEC do?
Multi-component shim for best noise reduction, easily recognizable thanks to its red color
High damping characteristics thanks to an innovative lining material that supports the noiseless function of the brakes while guaranteeing excellent performance
Same wear resistance as our standard brake pads
The ceramic brake pad is also suitable for perforated or slotted brake discs
What is TRW Electric Blue ?
Why are there brake pads developed specifically for electric vehicles?
The development of our TRW Electric Blue brake pads was driven by the increasing demand for electric cars on the European market. To meet this demand, we have developed a brake pad that meets special requirements:
A truly innovative solution and the world's first aftermarket brake pad for electric vehicles
Reduces noise and vibrations, which are more noticeable in electric vehicles due to the lack of engine noise
Covers 97% of electric vehicles registered in Europe – including popular models such as Tesla, Nissan Leaf, Renault Zoe...
All the assembly accessories and installation instructions you need are included in the scope of supply
TRW Electric Blue, the low-noise solution for electric vehicles...
Reduces noise considerably compared to standard brake pads.
High damping characteristics that reduce noise even more while braking.
TRW COTEC coating included.
Softer response with the excellent braking performance you have become accustomed to.
Multi-component shim in blue.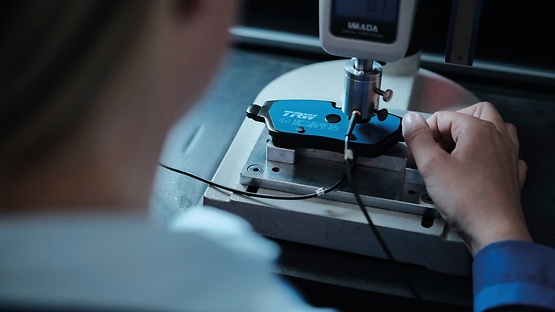 How we test the new friction linings for safety & driving comfort
NVH test (noise)
Noise matrix test (SAE J2521A specification)
Simulation noise tests at the test bench
Endurance test run (noise endurance test run) with a subjective rating between 1-10 (10 means noiseless)
TRW Electric Blue brake pads were given a rating of 9
Alpine test (performance)
Descents down Grossglockner High Alpine Road in Austria
25 minutes descent time
Temperature, pressures and delays are recorded
The specification is based on the boiling point (less than 180° C) of the brake fluid in the brake caliper (vapor lock)
TRW Electric Blue brake pads pass this test as well
Useful information for the workshop
Despite the many measures that ensure an easy assembly and a breaking-in phase for brake pads that is as short as possible, we have also added a short note to our customers to the packaging, as emergency braking should be avoided during the first 200 km and that it takes up to 1,000 kilometers until brake pads and brake discs are completely embedded and fit together ~ 100%.
The following can only be ensured when brake pads and brake discs are completely embedded:
maximum braking performance
maximum service life
minimum noise development