August 18, 2021
5 minutes read
What to consider when operating with high voltage
The high-voltage battery in electric vehicles
The high-voltage battery in electric vehicles has a nominal voltage of 60 to 1,000 volts, depending on the model. It should therefore go without saying that you will need not only the right know-how for your maintenance and service work on high-voltage vehicles, but also special workshop equipment too.


So, if hybrid, electric or fuel cell vehicles are to be serviced in your workshop in the future, every employee who carries out these activities needs personal protective equipment. According to the Occupational Health and Safety Act, every employer has the duty to ensure the safety of their employees – vehicle manufacturers are also obliged to install technical protective measures (e.g. insulation) in order to minimize electrical hazards for the vehicle owner or workshop staff. Nevertheless, all persons working on these vehicles should comply with additional measures to further minimize the risk of accidents.


These measures include personal protective equipment or organizational actions, such as adhering to prescribed waiting times (to reduce residual voltage).
Today I will show you which items should be part of your personal protective equipment. Then, in part two, you will find out which tools and measuring devices you need to be able to meet the five safety rules and thus carry out all other activities.
Safety first - the protective gear for you and your team
Your protective gear should include the following:
The electrician's glove (class 0, 1000V)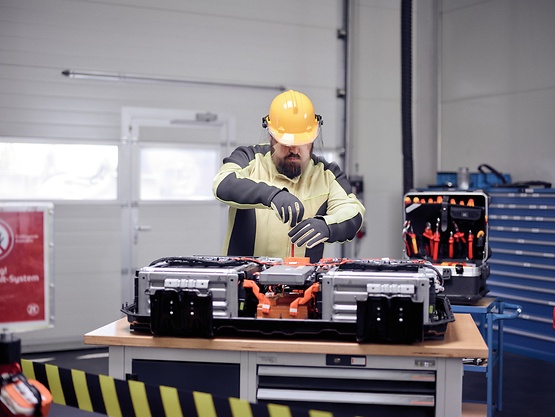 The electrician's glove provides protection against body fluids.
I recommend electrician gloves up to 1,000 V for work on high-voltage vehicles. Make sure that the glove is protected against electric arcs.


My hints for you:

Hint 1:
Always remember to check the glove before use. The quickest test: blow up the glove and see if the pressure holds or decreases. Alternatively, you can also use the appropriate test tool.

Hint 2:
Never try to cut corners – always dispose of the glove when the test or expiry date has expired.
A cover cloth for live parts (class 0)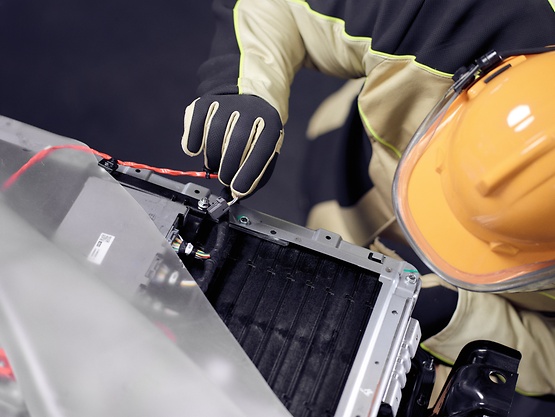 You will need the insulated cover cloth for working on live high-voltage components.
If you only want to carry out work of level 1 or 2 according to DGUV Information 200-006, you do not need the insulated cover cloth.


My hint:
Here too, I recommend a class 0 (up to 1,000 V) cover cloth.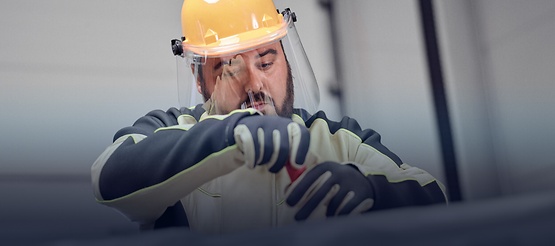 The face shield offers you protection against arcing, acid and splinters.
There are different versions, helmets and hoods. Here it is recommended to get a protection that shields the whole face area but still allows unlimited visibility.
Various warning signs (do not switch, high-voltage condition indicator)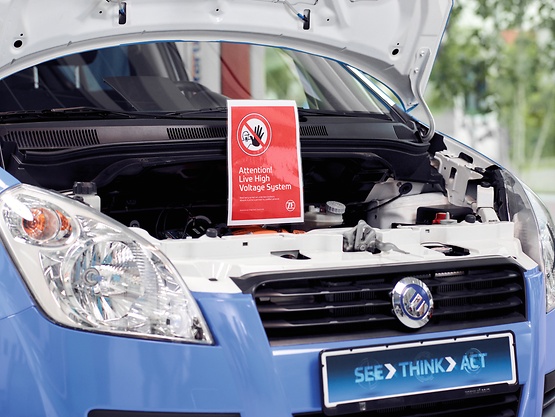 Warning signs are absolutely necessary, especially if multiple people are working on high-voltage vehicles at the same time. There are different types of warning signs – at ZF, we have four.

Three signs indicate the respective status of the high-voltage system:
high-voltage system active
high-voltage system inactive
high-voltage system active and exposed contacts.


Another sign is attached to all components that are necessary to shut down the high-voltage system. A "Do not switch" sign is attached here. We have created the warning signs according to the recommendations of the professional association/DGUV Info 200-006.


You can download ZF Aftermarket's customized templates here: high-voltage status sign
You want to know more about personal protective equipment?
For work on high-voltage vehicles, you need not only personal protective equipment, but also special tools or measuring devices. You can find out what these are and what you need them for in part two - so click your way back in!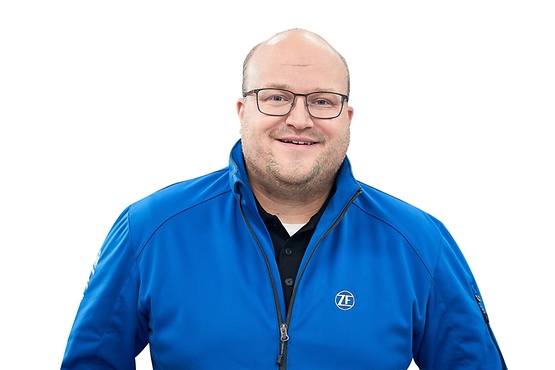 Philipp Klöckener
As Concept Manager, Philipp is responsible for ensuring Service Readiness in the field of Autonomous Transportation Systems (ATS) at ZF. His #zfexpert vision:

"The individual mobility of the future will change fundamentally and we will see concepts we haven't even thought of today."